imatge: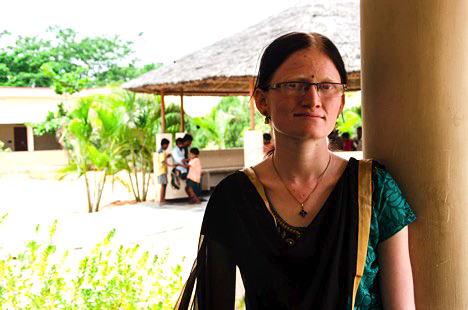 News - What's happening?
16-06-2017
The Vicente Ferrer Foundation USA (VFF USA) is thrilled to announce the save-the date for our annual gala, "Recipe for Empowerment" as October 6th, 2017.
15-06-2017
Are you interested in traveling to India?
As a child, Sudharini felt scared, shy, and isolated. While other children played outside in the sun, she sat indoors to avoid severe sun burns. Albinism, a genetic abnormality that results in a lack of melanin, primarily affects her vision and her skin sensitivity.
However, in spite of the discrimination and other obstacles that she has had to face because of her condition, Sudharani has flourished into a confident college student.
Thanks to her grandmother, Sudharani was introduced to the primary school that the Vicente Ferrer Foundation created in Bukkarayasamudram for children with visual impairments. There, she learned how to read and write in Braille, among other skills. She also learned how to use a computer program designed especially for people with visual impairments.
Sudharani is now preparing to develop a brilliant future within the study of computer science at the University of Hyderabad. Since 2007, when the VFF school opened, 30 children with albinism have studied there. Fourteen of these students have gone on to higher education.
Outside of academics, Sudharani was also able to significantly develop her communication skills and her self-confidence.
"You have to be sure of yourself," she says, "because once people get to know you, they don't discriminate against you."