Finding Common Ground: A Month in India By: Trisha Curry
imatge: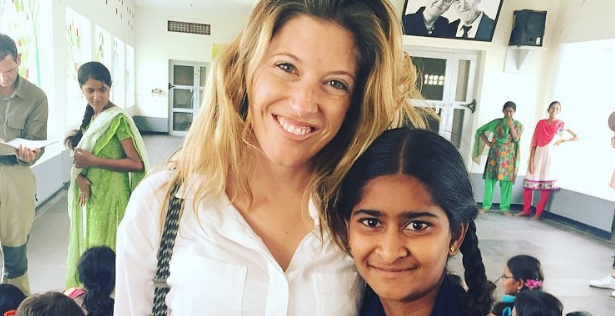 News - What's happening?
16-06-2017
The Vicente Ferrer Foundation USA (VFF USA) is thrilled to announce the save-the date for our annual gala, "Recipe for Empowerment" as October 6th, 2017.
15-06-2017
Are you interested in traveling to India?
Spending a month in India with VFF USA was an experience that was equal parts incredible and enlightening. My first impression of the Indian culture was in the car, observing my driver from the airport zip around chaotic streets, honking his horn emphatically at each car he passed and weaving in and out of traffic with inches to spare. The lanes designating traffic direction seemed to be regarded only as a suggestion. Cars and motorbikes constantly popped into the lane of opposing traffic to pass one another.  I even saw a motorcycle crammed with four passengers—two of which were tiny children—and a string of dead chickens hanging off the back.
After about an hour, the chaotic scene began to take on meaning. The horns signaled that drivers were passing one another. I began to notice that despite what felt like  many close calls—which surely would have led to an accident in my hometown of Los Angeles —the people of India were accustomed to moving in such close quarters with one another. They were not fazed or angered by someone cutting them off with two inches between them. There was some brilliance and agility to it. They had learned to survive in an environment that, to an American, would be considered chaos. The Indian people had a much higher level of calm, despite the turmoil surrounding them.
This first learning experience would repeat itself throughout my time in India. Initial confusion, misunderstanding, and sometimes even anger towards new customs, which I initially did not value,  would give way to understanding, tolerance, and appreciation for our differences.
As I traveled around Anantapur in south India, visiting the programs VFF USA had implemented—everything ranging from solar power, bio-gas, and crop planting, to home building, education, and support of people with disabilities—I was blown away by the numerous well thought-out and organized programs that were positively impacting the people of Anantapur. Everywhere I went I was received warmly, kindly, and with a barrage of questions about US customs, politics, and people. Perhaps even more striking was that every single person I encountered expressed their gratitude towards VFF's support in their community. They were genuinely thankful and empowered by VFF's presence. Many of them wanted to work for VFF. (VFF hires many locals and creates many jobs for the community each year.) The people working at VFF were some of the most passionate, intelligent, and organized individuals I have had the pleasure of spending time with.
The more time I spent with the people of Anantapur, and volunteers hailing from many parts of the world, the less separation I saw between our cultures. The most profound lesson I learned during my time in India with VFF USA was that we do not always have to agree with one another in order to get along. If we can focus on appreciating and respecting ideas different from our own, we have opened the door to a conversation that can be productive. We can all relate with one another on some level. If we take the time to listen to opposing views with an open mind,  we build tolerance, respect, understanding, and the capability to reach viable solutions that empower us all. We are all members of the human race, and it was an honor to work with people who do so much to contribute to, and propel, our human race forward.
Learn more about how you can visit us in India through our Travel for Change program.