Educating Girls for a Better Future
imatge: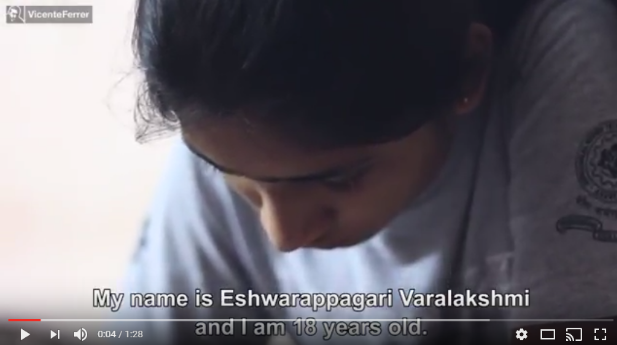 News - What's happening?
16-06-2017
The Vicente Ferrer Foundation USA (VFF USA) is thrilled to announce the save-the date for our annual gala, "Recipe for Empowerment" as October 6th, 2017.
15-06-2017
Are you interested in traveling to India?
In rural communities of India, girls can face significant barriers to education, but 18-year old Varalakshmi was determined to prove to herself and her community that an education can be the most effective pathway to success. It was a proud moment for her entire family when she got accepted to the Jawaharlal Nehru University, becoming the only person in her family to ever to go to college.
Getting this far was not easy. Varalakshmi's remote community has an elementary school where she studied until 5th grade, but in 6th grade, she needed to travel to a nearby village about 3 miles away to continue her education. Her parents discouraged her from continuing her education, as it can be unsafe to travel alone. In 8th grade, VFF provided her with a bike, significantly reducing her commute and making it possible for her to help at home while studying.
In India, public education does not include the last two years of high school (known as pre-university) and her parents could not afford to pay. After 10th grade, VFF provided her with an academic achievement scholarship to complete high school.  VFF's support provided Varalakshmi a helping hand all the way from elementary school to college.
Learn about our work in Education for Empowerment