VFF Donor Inspired to Visit India
imatge:

News - What's happening?
16-06-2017
The Vicente Ferrer Foundation USA (VFF USA) is thrilled to announce the save-the date for our annual gala, "Recipe for Empowerment" as October 6th, 2017.
15-06-2017
Are you interested in traveling to India?
Teresa del Moral, a pediatric physician in Miami, has been a longtime supporter of the Vicente Ferrer Foundation. This past summer, she sealed her commitment by visiting the Foundation at its base camp in the state of Andhra Pradesh, in southeast India. With her daughter and niece in tow, Teresa wanted to see for herself the impact that VFF has had on the ground, in the local communities that it serves. This is what she saw. This is her story.
1. Could you describe your professional background?
I am a pediatrician who specializes in neonatology, which focuses on the care of newborn babies. Since 1995, I have been on the faculty at the University of Miami and work in the neonatal intensive unit (NICU) at Holtz Children Hospital, which is affiliated with UM. I work mostly with very sick infants who are born too soon. 
I have always been inspired by the idea that we all should have "a good start." Doing things right in those first few moments of life can prevent many severe complications later on.
2. How did you first encounter the Foundation and its work?
A very good friend of my family sent me the report he got from VFF describing what was done with his donation. I was impressed with the pictures and the detailed description. I thought it was very powerful to get those pictures and to learn a bit about the people and family that benefited from the donation.
3. What was your first involvement with the Foundation?
I put a visit to the Foundation in India on my "to-do" list, but the timing didn't work out on a couple of occasions. When my daughter started college last year and expressed her interest in global health, it stimulated me to pursue the visit to India again, with the idea of taking my daughter and my niece who was finishing medical school in Spain. 
5. What was your impression of the Foundation during your visit? Do you have a memorable story or two from the trip that you can share? 
We spent five days with the Foundation and we never stopped being surprised and amazed. From day one, we started visiting the different programs, schools and hospitals. Our first visit was to a school for blind kids who were paired with orphaned, seeing kids. We saw how they read the newspaper with Braille language and we saw the computers that had been adapted for them. I still remember the first warm touch from those kids.
We also saw the ecological program where families get a solar-powered pump to get water for their fields, and gas for their kitchen. The morning after, we visited the program that provides nutrition for pregnant women and their children.  The visit to the hospitals was very impressive. The hospitals were very clean. We saw dedicated doctors and nurses using technology that was donated. This is very important. In other places, they bring technology but nobody knows how to apply it.
We had the opportunity to talk with the leaders, directors of the hospitals and learn about their challenges and accomplishments. We visited three hospitals, including one with a special area for HIV patients.  Of course, we paid a special visit to the NICU looking at each baby and at the delivery room. I made a commitment with myself: I must contribute to this delivery room in as many ways as possible.
We also visited the women's program, where they learn how to manage money and can do their own investments to improve their lives and become more independent. It is very satisfying to see that mixture of empowerment and beauty in these women. How proud they are of themselves!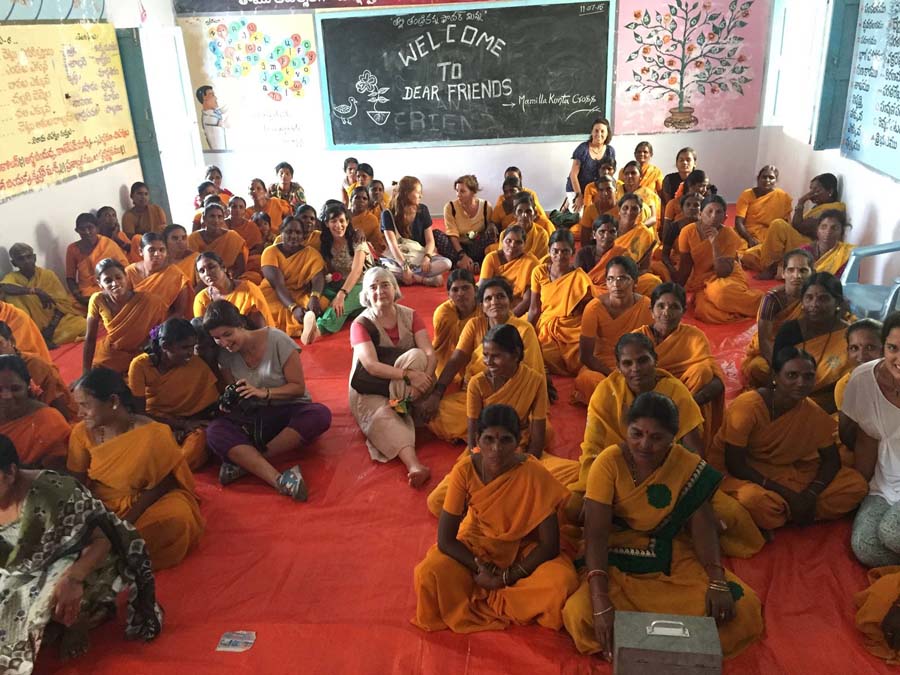 We saw the art and crafts workshop for women who can't get married because they are handicapped. They were all smiles and sweetness!
6. Tell us about visiting the children you have sponsored.
My daughter and my niece are both sponsoring a child, and we were able to see them. After an hour and a half of driving, we arrived to find the whole village waiting for us.
The sponsored kids had flowers to welcome us. The two sponsored kids are brother and sister. They put four chairs outside (the houses are so small that we would not have fit) and surrounded us. The mother of the kids had died and the 16-year-old big sister was taking care of them. We had traveled with an interpreter and we were able to communicate with them. The village had a school, where both kids attended. I remember those hundreds of dark deep eyes looking at us. All of them wanted to be in the pictures that the girls were taking. One disabled girl wanted to touch my daughter and niece. I cannot describe the emotion of being there. In some ways, I had this tremendous feeling of gratitude for them. When we left, all the kids ran after the car. They did not want us to leave.
This was the visit that took us to deepest India, seeing how they live in the smaller, more remote villages. It was a touching, powerful experience that none of us will forget. To get to know the children, see them in their daily lives, and see firsthand how our contributions are making a difference, this makes a huge impression on you.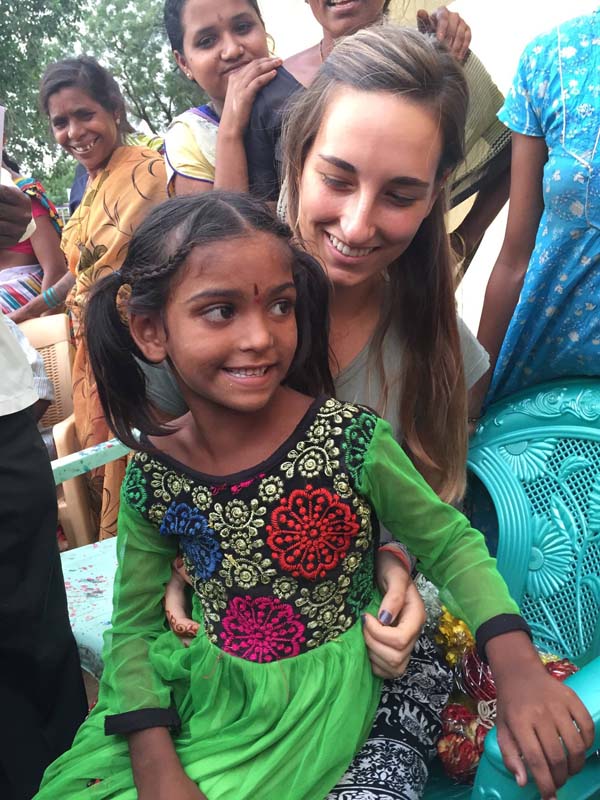 In summary, I was most impressed by the variety of different program targeting the most vulnerable people in India, and even more by the excellent organization. It's obvious that VFF is making sustainable changes and impacting a large population.
I have to add that breakfast and meals in the Foundation's "cantina" was an additional experience. We met so many people of all ages who were volunteering and working in different areas and programs. Everybody has something to give, from the modern designer helping the handicap women to create beautiful jewelry to the speech therapist evaluating dead kids to implant them hearing aids.
7. Did you have expectations about the people or the living conditions before your trip, and did your thinking change in any way after the trip?
I had been in India before and I knew how people live there, but the areas were the Foundation operates seem to have another culture in terms of cleanliness and beauty. India is colorful and beautiful, and this environment is only enhanced when organization and cleanliness is added.
8. Have you been sharing your story with friends & family in Miami? What has been their reaction?
Yes, I talk about this experience often to people in Miami and in other places where I travel, including Chile and Spain. They are amazed and many of them would like to visit the Foundation themselves. I also speak about VFF to people that I know who work in areas like the Dominican Republic or Haiti as an example of a well-organized foundation with great ideas and great programs, and one that is really making an impact on the population they are working with… It makes you consider what will be your little contribution to the big work that is being done.