Vicente Ferrer and Anna Ferrer met during a press interview in 1968. Bound by a shared commitment to fight for and to defend underprivileged people, they settled in Anantapur and created the Rural Development Trust (RDT). Since then, they have been dedicated in their efforts to build a fairer and more just society.
Vicente Ferrer
(Barcelona, Spain, April 9, 1920 – Anantapur, India, June 19, 2009).
As a young man, Vicente Ferrer joined the Society of Jesus in the hopes of fulfilling his greatest desire and vocation: helping others.
In 1952, Vicente left for Mumbai as a Jesuit missionary to complete his spiritual training, and came face to face with India for the first time. From then on, he devoted his life to ending the suffering of the country's poorest.
Unfortunately, his work raised suspicion among certain people who viewed him as a threat to their interests and secured an order to have him removed from the country. As a result, over 30,000 farmers, backed by intellectuals and India's political and religious elite, organized a 250 km march from Manmad to Mumbai in protest of the deportation order.
In an interview with Vicente Ferrer, Indira Gandhi, then the Prime Minister of India, recognized his work and pledged to find a solution. As a guarantee, she sent a telegram: "Father Vicente Ferrer will go abroad for a short holiday and will be welcome again in India."
In 1968, Vicente left India for Spain. Three months later, thanks to the personal interest of Indira Gandhi, he was issued a new visa and settled in Anantapur (Andhra Pradesh). Upon arriving in this arid region, one of the country's poorest, he resumed his fight and vocation to help the most disadvantaged people. He left the Society of Jesus in 1970 and, alongside the woman who would soon become his wife, Anne Perry, created Rural Development Trust (RDT).
Anna Ferrer
(Essex, England, 1947).
Anna Ferrer's adventurous temperament inspired her to undertake a long journey from her native England to India, where she decided to stay and complete her studies.
In early 1965, she started working as a reporter for the news magazine Current and three years later met Vicente Ferrer during an interview. From then on, Anna, alongside Vicente, whom she married in 1970, found a reason to fight that prompted her to quit her job as a journalist and start a new life in the Anantapur District. Smart, capable, and extremely aware of the situation facing women in India, Anna has been and still is one of the cornerstones of Vicente Ferrer Foundation USA. She has become a resounding voice in the struggle to ensure equal rights for Dalit women.
Anna Ferrer is currently President of Vicente Ferrer Foundation Spain and Executive Director of Vicente Ferrer Foundation India. She is responsible for setting the organization's strategy and coordinating the management team that oversees the organization's numerous projects.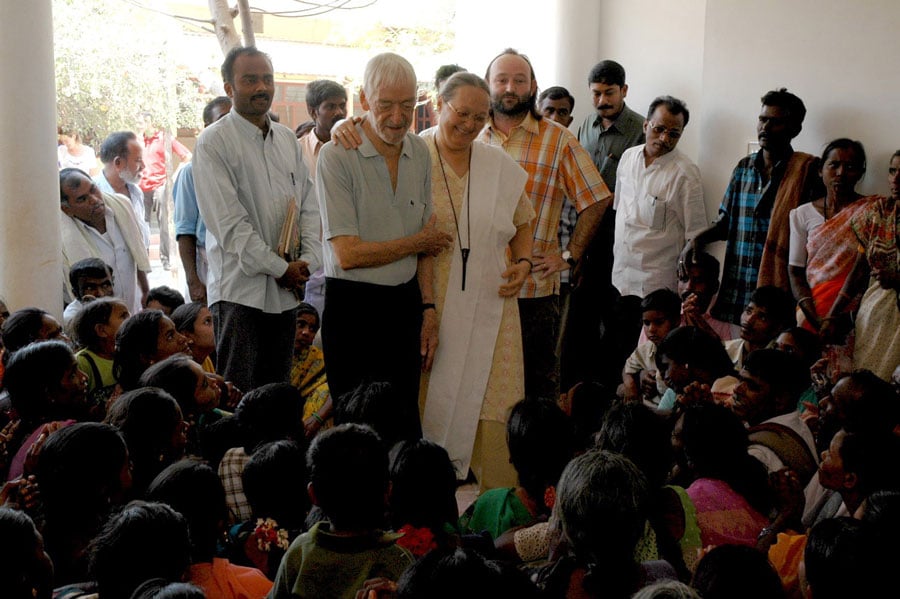 The organization's main concern was helping the district's poorest families find work and gain access to food. The founders paid special attention to the most marginalized communities, including the so-called "untouchables"; people with disabilities, and women and girls. This focus on the severely underprivileged continues to this day.
Since its inception, VFF has embraced a whole-village approach emphasizing self-sufficiency. At the heart of the organization's mission is to empower the people to build up their own communities, to break down centuries of ingrained discrimination, and to take charge of their own lives. VFF merely serves to identify and remove the barriers to progress. We consider the people of India to be the main players in the process of their own improvement — India for India. As Father Ferrer put it in his pithy way: "Action is a flame that never goes out." The story of VFF is the story of action over words.
To achieve our mission of eradicating extreme poverty and suffering, VFF dedicates itself to holistic development. We believe in being accountable for every dollar raised and spent. This means we aim to create highly effective, sustainable programs that not only tackle the symptoms of poverty such poor nutrition and disease, but also improve the underlying factors, including education, women's empowerment, the environment, cultural development, community health, and recreation.
We are changing lives by addressing the interconnected web of issues affecting every impoverished family: hunger, housing, healthcare, education, discrimination and sustainable farming. In this way, we are breaking the cycle of extreme poverty by empowering lives. We're not asking for charity. We are seeking real solutions. We are seeking transformation.
Today, because one man dared to imagine the impossible, nearly 2,400 people (99% of whom are locals) contribute to the organization's work covering 3,200 villages and affecting almost 3 million people.
Father Ferrer said it best: "[VFF] does not end with Vicente Ferrer; it just started with him."